Study at a public holiday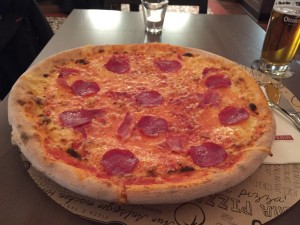 Before i will start to study i wanted something to eat. I decided to look at Yelp where i should eat something. I found the restaurant L'Osteria. I have to say it was the biggest pizza i had in my whole live and it was really tasty.
If you will visit this restaurant too please also try the homemade Tiramisu.
After that i walked to the Austrian National Library where i wanted to study today. While i walked through the Heldenplatz i thought "Wow a lot of tourists but where are the students?"
I went into the library and BAM CLOSED! I thought NOOOO please where should i study today? i'm not able to learn at home and all other librarys in vienna are also closed 🙁
I drove home and as i said before i don't learned much today 🙁
2 days until the exam …. :/